Hydraulic Steering and High Steer Page

I lifted the Jeep using 44044 Rancho springs in the spring of 2004.  My intent was to put 37" MTR's on it, which I did.  So no problem, right?  Well, sort of...it wheels great, I love the MTR's and the additional clearance and it runs better on the road too.  The problem is that as soon as I put the bigger tires on I started breaking steering components.  First I broke a pitman arm (in half!) in Buck Island Lake.  Then I bent a pitman arm on Barrett.  Then a steering box mount and a drag link.  Though it wasn't stock (braced box and 1" DOM links with 3/4 ton TRE's), obviously the steering wasn't up to the chore.

So I started doing some research and decided to go to the following components in Spring of 2005:


-
Howe
pump, steering box, reservoir, and steering assist ram

-
Extreme Gear
high steer arms, replacement drilled and tapped knuckles

- 1" DOM tie rod and drag link with 1 ton tie rod ends

- Custom fabbed steering box mount to move the steering box forward

- New Teaberry hoses

- A re-clocked Wagoneer pitman arm (longer and stronger)
I didn't take pics as I went along, so all I have are pics of the completed project.  Here they are: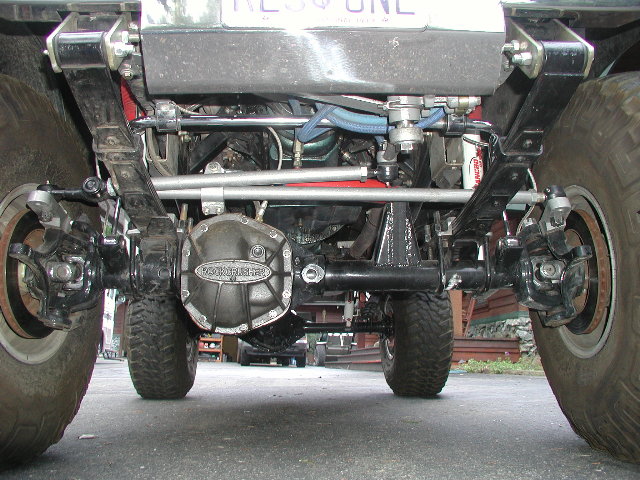 This is a shot of the completed steering.  It steers better on the street, stays aligned, is up out of the way of the rocks, and best of all, doesn't break anymore.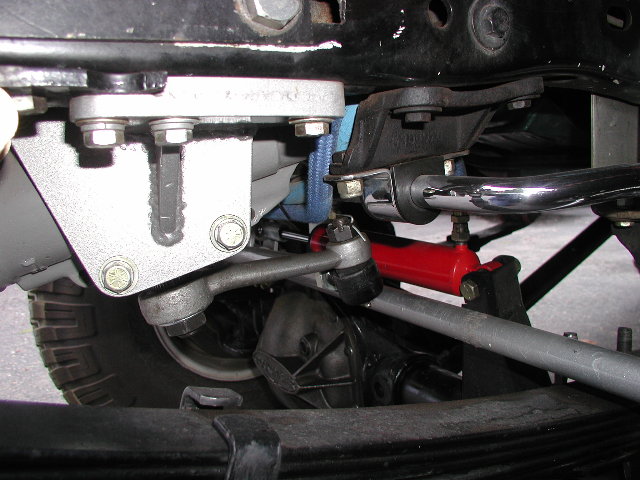 From the left side, this shows the custom steering box mount (much heavier and moved forward 1 1/4" inch), the Wagoneer pitman arm, and the steering ram and mount.  After I built the steering box mount,
MORE
designed and started marketing the exact same thing.  I would have bought one if it had been available then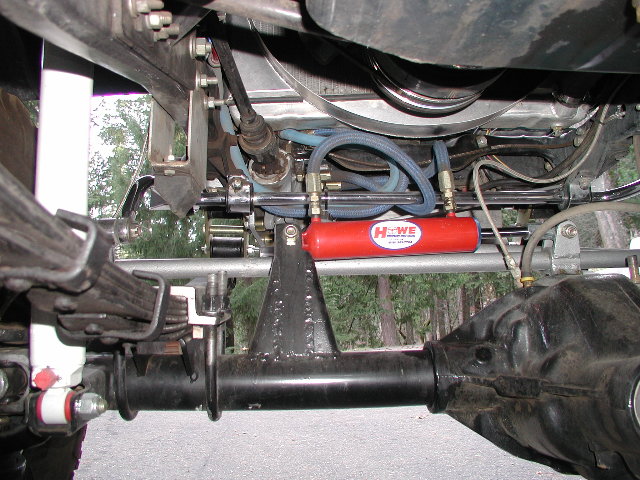 From just behind the front end.  This shows the ram mount at the axle and tie rod.  In order to be effective, it is important that the ram be mounted as close to paralell to the tie rod as possible, so the ram mount is 8" tall.  This creates a fair amount of leverage, so I used 2" .250 wall square tube and welded in triangular gussets on either side.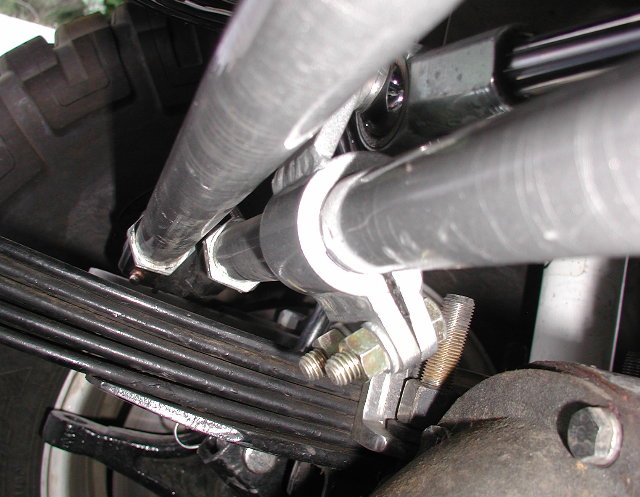 This shows the clamp on the other end of the ram.  Instead of welding tabs to the tie rod, I chose to build this clamp.  Now when I want to align the front end, I can loosen the clamp and turn the drag link without having to unbolt it.  It also makes alignment and placement of the ram easy to adjust.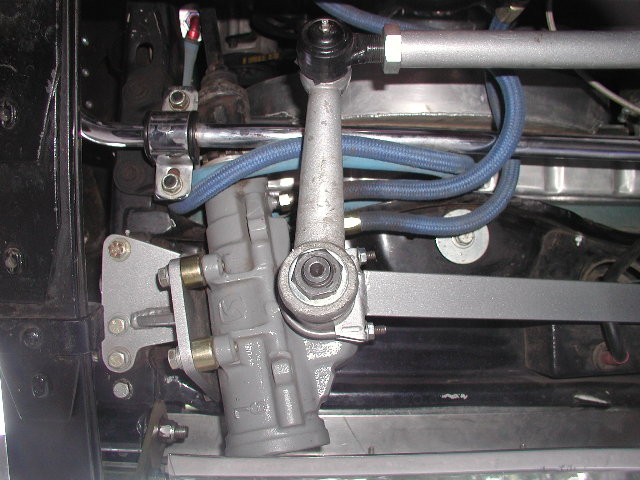 This was taken looking straight up at the steering box from the ground.  It shows the mount, the brace that runs to the opposite frame rail (made from a 2" exhaust clamp), and hose routing.  For a complete hose routing diagram look
here
.