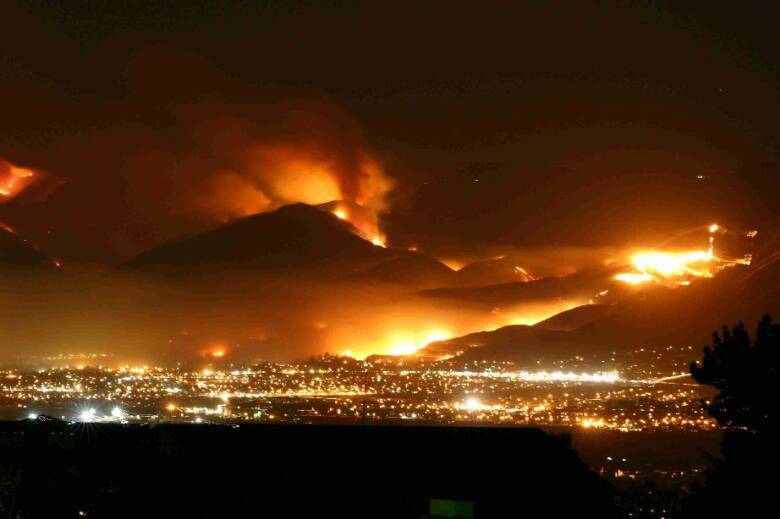 The view across the El Cajon on the night of October 26th (Sally Walker).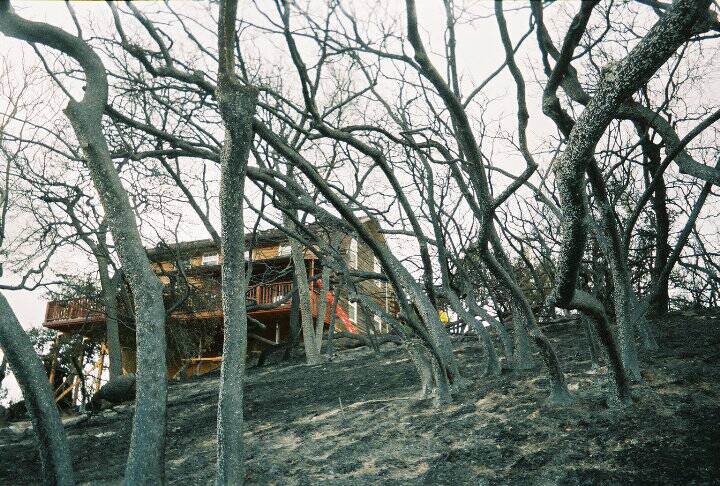 A successful structure protection assignment (C. Miller).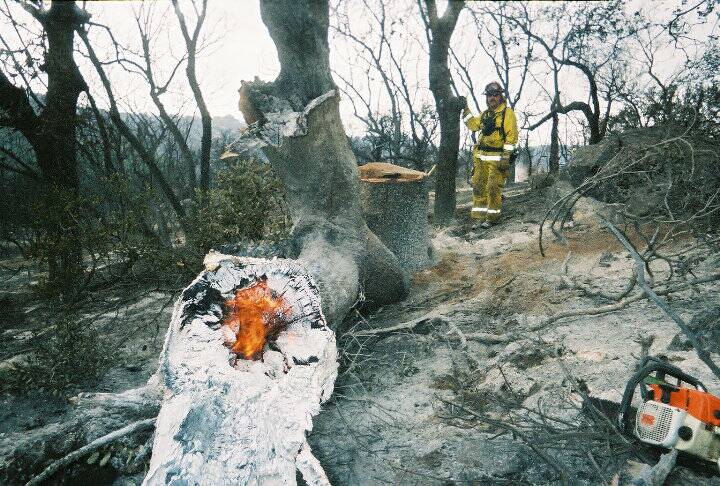 That's me doing some mop-up (C. Miller).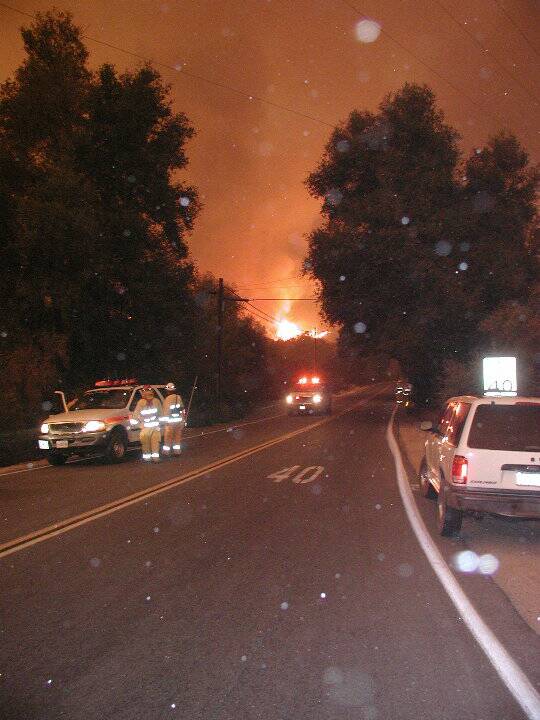 Highway 79 and Riverside (Descanso Junction) about two o'clock in the afternoon on October 28, 2003, on a structure protection assignment (J. Arenz).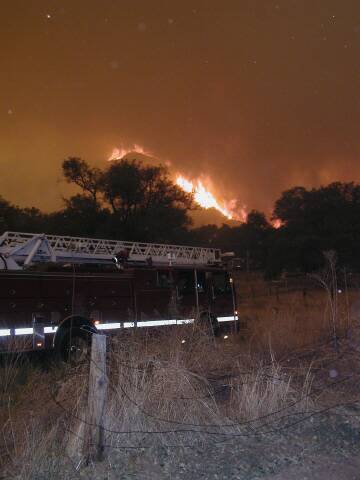 The same assignment ten minutes later.  100 to 150 foot flame lengths, coming down the hill.  Many experienced firefighters commented on the unbelieveable burning conditions encountered at this fire... low humidity for several days (bringing the live and dead fuel moistures down), erratic wind shifts, high winds, and heavy fuel make a nasty combination (J. Arenz).

This page was last updated on: November 2, 2006

On October  25th, 2003, the Cedar Fire was started in eastern San Diego County by a lost hunter firing a signal flare.  It burned a few thousand acres that night, and driven by Santa Ana winds, nearly 120,000 acres the next day.  The fire changed direction in front of the wind and burned in several directions over the next few days, eventually taking over 250,000 acres, 2500 homes, and 20 lives, incuding the life of Steve Rucker, a firefighter for Novato Fire Department there on a mutual aid assignment.  These are a few pictures: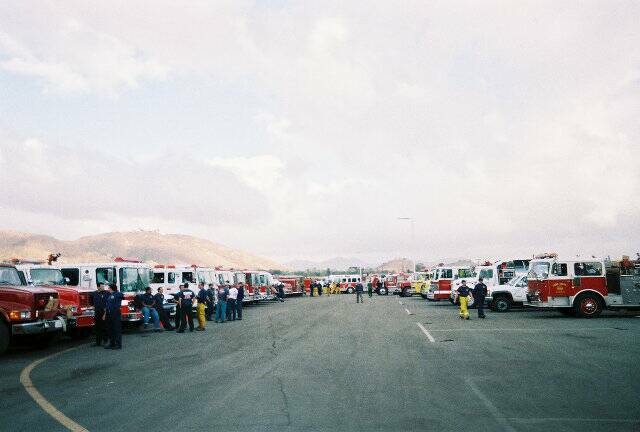 Heartland Base at Gillespie Field in El Cajon, California (C. Miller).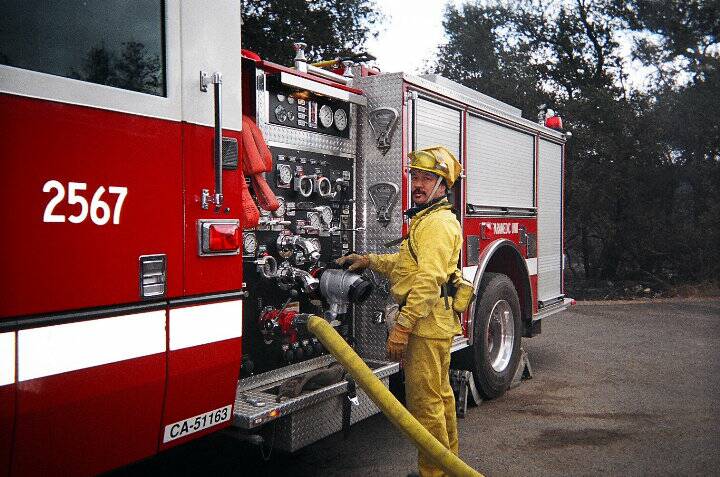 Steve Chew of the Oakland Fire Department at the panel (J. Banchero).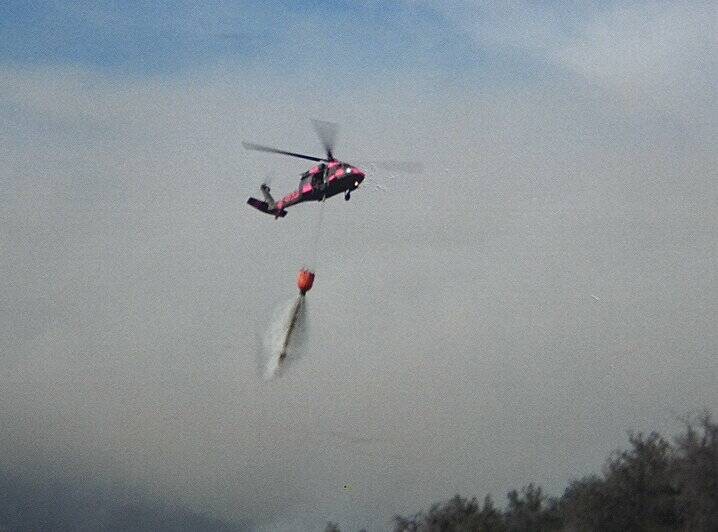 A private helicopter hired by the USFS makes a drop to support our structure protection effort (J. Banchero).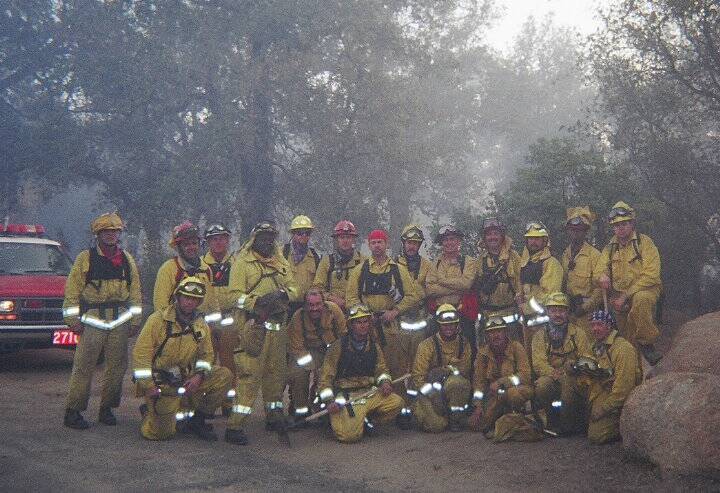 Our strike team, XAL2004A, the fourth  of five strike teams deployed out of Alameda County during the 2003 firestorm, three of which were sent to the Cedar Fire (J. Banchero).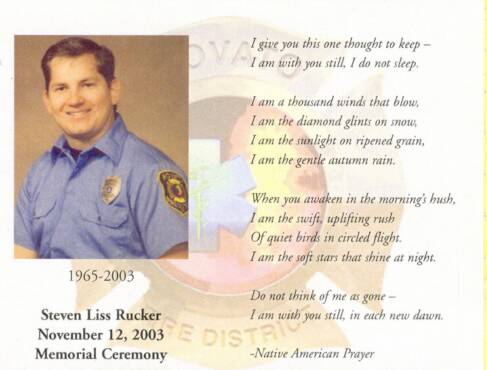 Invitation card from Steve Rucker's memorial.  Click here to look at Novato Fire Department's website for information on memorializing Steve's life.

Green Sheets are CDF-speak for "Investigation summaries of serious injuries, illnesses, accidents, or near misses".  This particular Green Sheet is the investigation of the Novato Fire Department Engine Crew entrapment, the fatal injuries received by Steve Rucker, and burn injuries received by the balance of the crew associated with the Wynola blowup on October 29, 2003.  This is the same blow-up experienced by my strike team where we were assigned close by.  If you are interested in reading the investigation, I would urge you to download and print the maps first in order to reference them, or you will have difficulty understanding the chain of events that led up to this tragedy.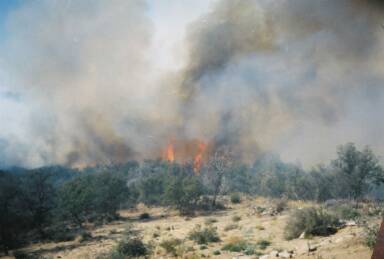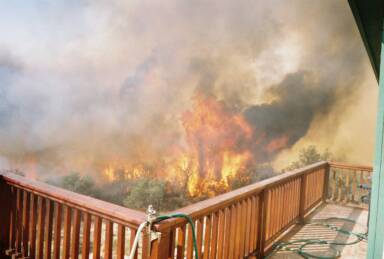 These two pictures of the same location were taken by a homeowner in Wynola less than a minute apart.  The fire was mostly fuel driven at this point.  Its rapid spread rate and extreme fire behavior attests to the burning conditions dictated by the low fuel moisture in the 10 hour fuels, even though the relative humidity was at 26 percent. (M. Brady)


A true scholar wants all points of view.  The Novato Fire Protection District has drawn some different conclusions on the entrapment.  Read about them
here
.